Learn the merits of cornelian cherry fruit
Scientifically confirmed effects
It has been scientifically confirmed that the fruit of cornelian cherry and deriving products have healthy effects. Cornelian cherry is recommended as an antibacterial, anti-haemorrhagic, fever-relieving agent which also strengthens our immunity.
Merits of cornelian cherry
The fruit and preserves made of cornelian cherry are recommended in the prophylactics of such civilisation diseases like diabetes, obesity and heart diseases.
A wide spectrum of cornelian cherry effects is connected with biologically active components of this fruit. Most of fruits contain just one group of active compounds. In turn, the fruit of cornelian cherry, as one of few, contains two groups of active components: polyphenolswhich act as antioxidants, and iridoids (like loganic acid), which have anti-inflammatory properties.
This fruit is not appreciated in Poland and whole Europe enough, although it was very popular before the war. Unfortunately, after the war palaces and estates with cornelian cherry orchards were damaged and cornelian cherry disappeared. zniknął.
Cornelian cherry contains a lot of vitamin C, even up to five times more than lemon! It is also rich in potassium, calcium, phosphorus, magnesium, iron, zinc and polyphenols, which are strong antioxidants. Red varieties of cornelian cherry contain a lot of anthocyanins, which have anti-inflammatory properties and regulate the production of insulin.
The Wrocław University of Environmental and Life Sciences together with the Medical University in Wrocław, the University of Rzeszów i Arboretum in Bolestraszyce own three patents relating to biological properties of active compounds of cornelian cherry. One of them proves the beneficial effect of a cornelian cherry extract (in the form of eye drops) in the ophthalmology. The drops reduce eyeball pressure and improve microcirculation in the eye. This beneficial effect can be applied, for example, in the treatment of glaucoma. At present, new studies on people that regularly consume products made of cornelian cherry and containing, among others, our paste are underway.
Preserves of cornelian cherry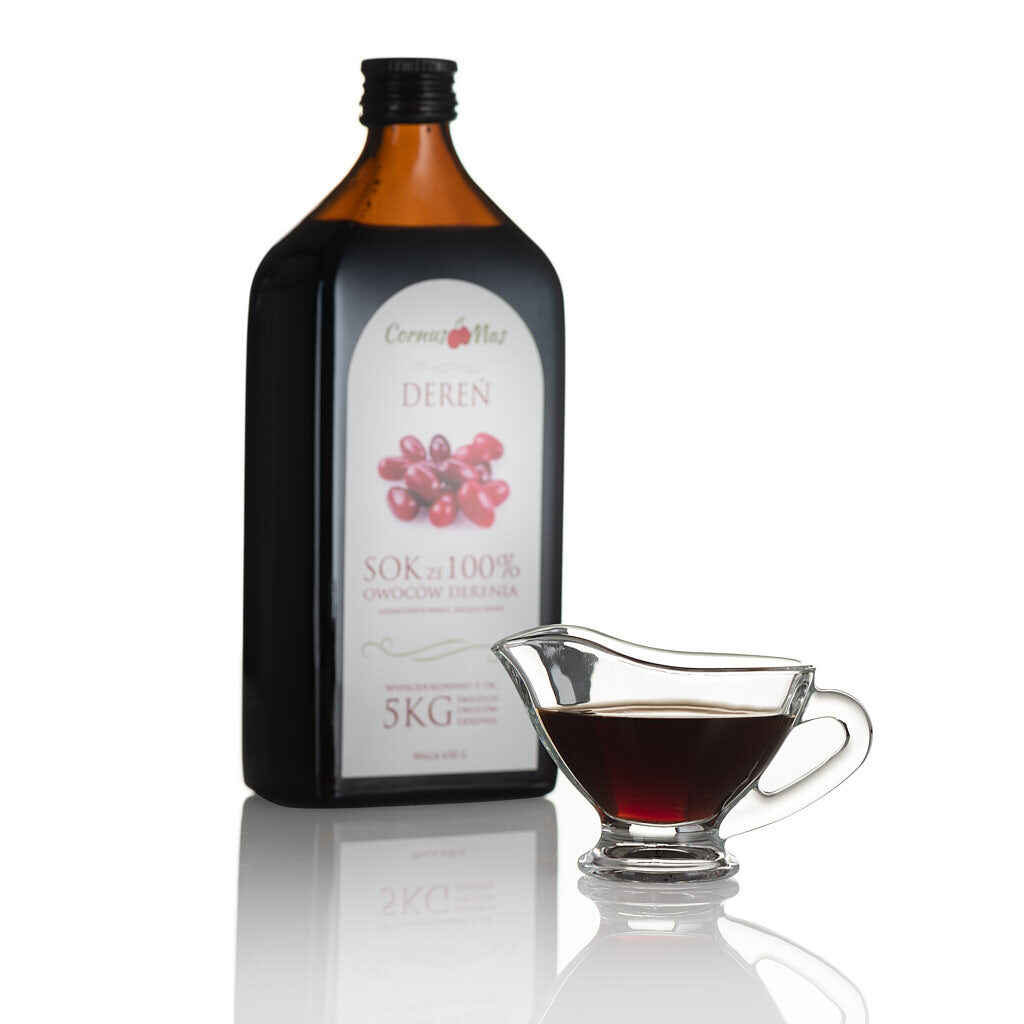 The fruit of cornelian cherry may be used in sweet and salty products for children (juices, lollypops) and for adults (liqueurs).
Different varieties, including even unripe fruit (like marinated olives), may be used in various types of preserves.
The fruit of cornelian cherry is tart and sour due to malic acid and quinic acid.
As there are many different varieties of the fruit, cornelian cherry can be picked for a longer harvest period. The fruit of cornelian cherry can be bigger or smaller. The smallest fruit contains more active compounds.
We have been expanding our offer with new cornelian cherry products and other healthy fruits and vegetables all the time. Let us invite you to visiting our official FB fan page.